Crimson IT provides you with complete remote support services - the smarter and more effective way of dealing with the issues you can face with company computers, networks, accounts, and other technical matters. Whether you are suffering from difficult hardware issues or complex software problems, most IT-related stresses can be taken care of with remote support.
Get access to knowledgeable, fast IT help desk solutions to provide remote support to every important area of your business.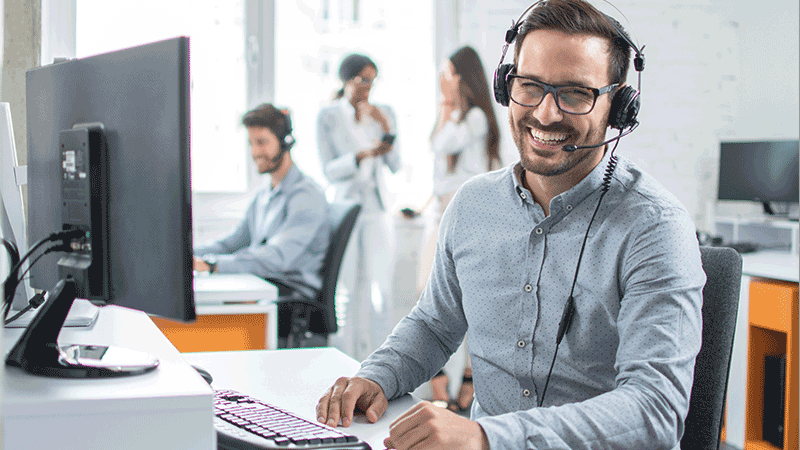 IT Help Desk Services: Your First Line of Remote Support
Are you constantly tapping on your internal IT administrator to handle your daily computer and password issues, as well as maintain your servers and network?
Because these roles are so intertwined, many businesses have attempted this strategy to help keep remote support costs down. However, it's likely you'll find out from first-hand experience that the potential for downtime and other issues that can harm your business is much more probable. In order to help safeguard against these everyday technical issues, enterprises and SMBs can turn to the help of managed help desk services.
Our IT help desk services are there to help your organization when unavoidable and inevitable problems arise, serving a few key functions that move your business forward, such as:
Keeping your employees happy, productive, and effective.
Enabling fast and correct resolutions to technical and network issues.
Helping your current IT staff to halt and prevent any downtime that could occur.
As a trusted provider for remote support solutions, professionals at Crimson IT take pride in offering scalable, efficient, and always-reliable IT services to organizations small and large.
---
Why Should You Use Outsourced Help Desk & Remote Support?
Help desk outsourcing provides your customers and employees with round-the-clock remote support without the high costs generally associated with offering in-house help desk support. As your business continues to grow and develop a loyal customer base, providing comprehensive IT help desk support can become costly and often times inefficient.
Any qualified outsourced help desk ensures that your internal staff is supported on every technical level, and that their problems are solved efficiently - whether it be a simple password reset or to fix an issue with the entire network. Using our expert IT help desk professionals to supplement and support your in-house IT department can benefit your business in a number of critical ways, including:
Greater Remote Support Availability
Having no remote support in place for the teams at your company can lead to preventable frustration. Outsourced help desk solutions allow you to call on expert-level service and support when it's needed, 24/7 - not just when it's convenient to get to.
IT Service Desk Knowledge
Many in-house technical staff have great intentions but lack the experience to resolve every type of technical or network problem that may come your way. Outsourcing to help desk service companies with experts will provide a greater level of service.
Faster Response Times
In many cases, problems can occur quickly and need the fastest, best solution in order to get things back to normal. With remote support that includes remote access to computers and key accounts security, there is a faster response time, minimizing downtime for your business.
Lower Costs for Remote Support
Hiring staff when IT help desk services are needed can be an incredibly costly effort. Fixed costs are minimized when you use outsourced help desk support services, as you don't need to pay for additional costs associated with training, retention, etc.
Technical Expertise
Taking advantage of the expertise of a managed help desk service is one of the main benefits to enterprises and SMBs. With industry-specific expertise, remote support specialists can work through issues more quickly and effectively.
---
Remote Support for Your Business with Expertly-Managed Help Desk Services
Crimson IT offers many comprehensive IT help desk services for enterprises and SMBs requiring full or part-time help desk support, managed help desk services, remote support, and more. No matter what type of IT help desk support functions you need, our experts will provide you with a complete and customized solution catered to your internal needs and goals. Our team of remote support professionals is here to help your business streamline and simplify by:
Providing Incredible Service: Scalable, enterprise-grade remote support that keeps your business running smoothly, whether you're dealing with a server meltdown or password issues.
Securing Your Company: With incredibly secure remote support solutions, we guarantee data privacy using advanced encryption, specific team permissions, comprehensive audits, and more.
Offering Consistent Support: Instant remote support that helps you to get more done on a daily basis because you're focused on growth-based goals and not on fixing your IT environment.
Crimson IT's managed help desk professionals provide the highest level of service to businesses in need of IT help desk support, offering services such as: