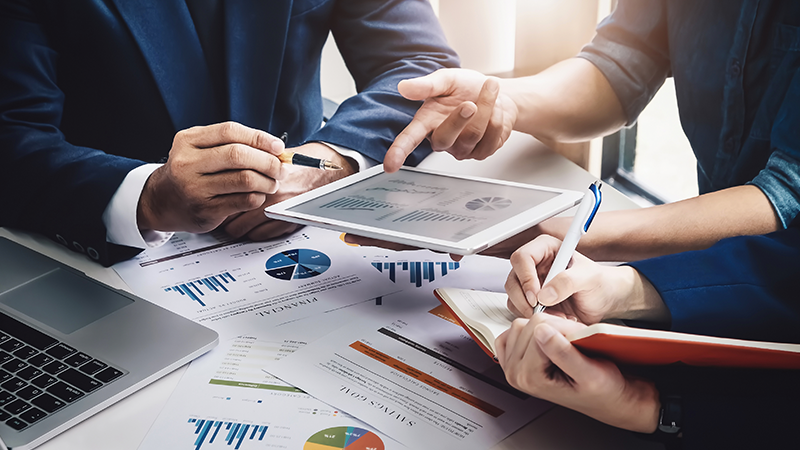 Access the most powerful, reliable, and secure business technology and IT consulting to enhance the performance of your financial business.
There are a myriad of situations that can interrupt business operations, leaving your financial business and your clients in an uneasy territory. However, having reliable IT solutions and business technology for financial services can ensure that you can more easily identify, analyze, remove, and reduce the number of issues that occur over time.
Does your business technology reflect your dedication to client confidentiality, legislation, and industry standards? Can you communicate and efficiently work with clients without risking data loss or experiencing other IT-related issues? Do you have a safeguard plan in place in case of disaster? These are all mission-critical questions that financial services firms must ask themselves when considering the current and future state of technology.
By outsourcing the assessment, monitoring, and ongoing maintenance of your IT infrastructure, cloud services, software applications, and more to IT experts at Crimson IT, you'll be able to:
focus more fully on your clients and growing business
reduce your IT-related expenditures and operational costs
ensure compliance with all rules and regulations
improve your IT system performance
solidify your competitive advantage in the market
tap into high levels of expertise in the area of financial service technology
When your financial services firm is looking for managed IT services, IT security, and IT consulting, Crimson IT is your all-in-one solution that truly understands the unique needs and limitations in the finance industry today.
---
Why Financial Firms Should Outsource IT Services & Security
Financial organizations today hold a strong understanding that the proper financial services technology can provide a valuable competitive edge. But, why does this mean that financial services firms should enlist the help of an outsourced, managed IT solution?
The speed at which technology changes requires constant monitoring, updates, and integrations which can prove to be challenging for busy firms to manage successfully over time. Businesses in the financial industry must have the right tools, applications, and platforms in place for the most streamlined operations possible, as well as consistently-maintained networks to keep the customer experience positive and frequently updated systems that meet compliance standards.
Crimson IT offers comprehensive managed IT services and IT security to financial services organizations in the Los Angeles, CA area. We understand that financial services and technology go hand-in-hand. As a financial services firm, you depend on this technology every day to help you perform business functions like client communication, process management, procedural compliance, and performance efficiency. With years of experience working with financial firms and other industries, our IT consultants have every bit of knowledge and skill that you need to meet your business technology requirements, including helping you:
leverage cloud services and solutions for better security, greater accessibility, and improved collaboration
protect confidential data and other critical information from unauthorized, unwanted access
improve and maintain operations, and prepare for any potential data disaster
stay compliant with financial services regulations (i.e., HMDA, SOX, FISMA)
solve complex business challenges with improved technology
utilize industry-specific technology with support for financial programs (i.e., QuickBooks, Sage Accounting, etc.)
---
Dedicated Financial IT Services & IT Consulting with Crimson IT
Businesses operating within financial areas from banking to wealth management to insurance can benefit from Crimson IT experts. With a full team of dedicated IT consultants on your side, we'll work together to solve your most complicated, taxing, and resource-heavy challenges with technology. With your specific business goals in mind every step of the way, we'll create the most tailored IT plan that will address every issue, set you up for total compliance, and help you grow your financial services firm in a scalable way for your customers.