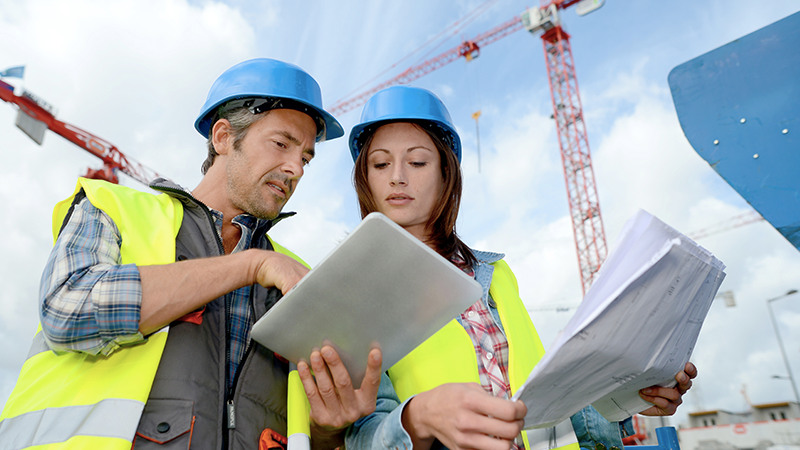 Helping firms in the development and construction industries to streamline business, improve communication, mitigate risk, and more with custom IT services.
Reaching your timeline goals, tracking and enforcing budget limitations, and collaborating efficiently across multiple departments, locations, and third-party service providers are always the goals for businesses operating in the development and construction industries. If you're one of many organizations not fully realizing the potential of technology, you're running the risk of falling behind the competition, losing valuable resources, and potentially damaging the future of your business.
Every part of the development, engineering, and construction process -- including design, site assessments, project timeline, and task management, field devices, onsite cabling, and more -- is, at least in part, controlled and driven by robust technology. In order to reach your primary objectives and grow your firm intelligently, it's necessary to maintain the flawless performance of your essential IT services for construction.
At Crimson IT, we offer a wide range of customized, managed IT services to help construction and development clients maximize their profits, streamline operations, and deliver project success every time. Working together with your firm, we aim to:
Help your business grow with scalable technology
Deliver IT solutions that keep your team in contact
Safeguard your files, blueprints, designs, and other important data
Test, upgrade and maintain software and applications
Sustain your network to stabilize performance overall
Our primary focus is to align the most comprehensive technology strategy with your internal goals, so you can truly stand out among today's competitive marketplace.
---
How Custom IT Services Are Changing the Development & Construction Industries
The development and construction industries are continually being challenged with new obstacles. With every economic boom, crash, or fluctuation, a market change occurs that keeps businesses constantly on their toes. In addition, the technology being used in these industries is evolving, becoming more powerful and integrated than ever before.
With the rapid rise of cloud services, mobile devices, and other key technologies, companies are finally starting to rely on real-time data tracking, continuous and comprehensive IT services, and in-depth analytics to operate more efficiently over time. Armed with flexible, customized IT services explicitly built with development and construction companies in mind, businesses in these industries can benefit from:
1. Solving issues faster
Every project you're participating in has a tight deadline that must be reached. With every inefficiency and issue with IT that occurs along the way, you could be adding hours -- even days -- to your overall project timeline. With custom IT services, firms in development and construction can more easily track, manage, and eliminate future IT-related problems.
2. Creating higher levels of operational efficiency
One critical area of any business lies in operations. Because it's made up of so many mission-critical processes and procedures, your operations can slow down dramatically when your technology isn't pulling its weight in the office or out in the field. Managed tech services for construction enables businesses to proactively improve IT-related processes, meaning more efficient levels of operation, employees that are in better communication, and happier clients.
3. Reducing costs for IT and technology solutions
When you're working on a large or even small-scale project, every allocated dollar in the budget is a big deal. Rather than burning through money reserved for technology research and improvements, utilizing custom IT services from a trusted provider allows construction and development companies to reduce costs while receiving the highest quality solutions.
4. Improving IT and data security
Your networks and data storage systems that contain the confidential intellectual property for your projects, such as bids, building specs, and blueprint files, should always be airtight. Enlisting the help of flexible IT consultant services helps you evaluate your current data setup, migrate to encrypted servers, and constantly monitor the security of your information to keep it safe and accessible.
5. Increasing project performance speeds
When every part of your IT environment is up-to-date, running smoothly, and functioning and as it should be, your construction or development firm will notice the difference in performance. Only a custom IT plan and tailored services will allow you to maintain the most optimal performance speeds and minimize downtime to keep your business moving.
---
Enhancing Your Business Services with Managed IT Solutions From Crimson IT
The everyday processes and technology used by development and construction firms have become increasingly complicated as advancements have picked up. With an onslaught of new devices, software packages, and other tools for industry leaders to use, it can be difficult to remain focused on building your core business.
Crimson IT consultants provide firms in construction, engineering, and development with the necessary strategy, tactics, and data needed to guide your business in the right direction. With years of experience working with businesses across Los Angeles, we offer all of the managed IT services that engineering and development firms require. We offer unparalleled expertise and certified experts to guide you through every need, including: