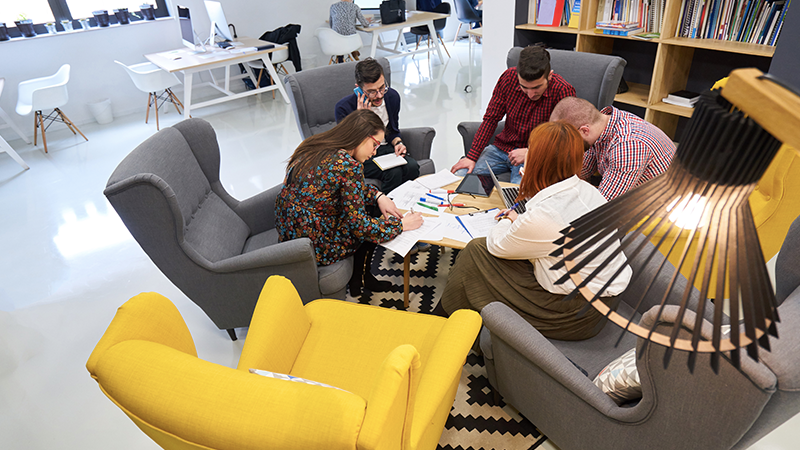 Providing powerful, reliable, scalable, and secure business technology and complete IT services to growing startups.
There's a lot of stress, uncertainty, and urgent tasks surrounding early-stage organizations - all standard obstacles that a startup must successfully navigate to succeed long-term. At any phase of a startup business lifecycle, the need for reliable and powerful technology, streamlined tools, reduced expenses, and hard-working employees is necessary. As your startup continues to grow into new phases, markets, and brand characteristics, it's important to make sure that the tools and technologies put into place are pulling their weight.
Crimson IT consultants are true experts in business technology and IT services for startups in Los Angeles. We understand the challenges and advantages that come with being an early-stage company, the vast importance of your networks, and the critical nature of data security. We'll work directly with you to support your growth with tailored IT solutions that aim to:
Free up employees to focus on business growth
Reduce operational costs and IT expenses
Optimize performance with advanced IT architecture
Give a competitive advantage in any market
Protect business data with secure cloud storage, firewalls, antivirus protection, etc.
Ensure compliance with every rule and regulation
Provide 24/7 tech support to resolve any issues, big or small
Constantly monitor and maintain network connections
Offer the most knowledgeable experts in all technical areas
With budget-friendly, reliable, and fully customizable solutions, our team of IT consultants provides you with the business technology and IT services that you need. From setting up your phone lines to cabling your new building to migrate your data to secure cloud servers, Crimson IT is your partner in managed IT services and business technology.
---
Support for Startups - The Real Benefits of Managed IT Solutions
Game-changing software and technology are always at the top-of-mind for startups. After all, the proper utilization of the right kinds of tools will have a positive effect on your startup's customer satisfaction, communication, sales growth, operational efficiency, product/service offering, and even employee happiness.
Rather than handling the complexities of scalable business technology in-house, it's worth it for the vast majority of startups to enlist the help of expert-level, managed IT service providers. Taking advantage of managed IT services for startups from Crimson IT reaps a huge number of benefits, such as:
1. Creating more value
Focusing your efforts and energy more on improving your products or service offerings, building successful marketing campaigns, and other types of startup activities that will drive your overall value is always a good move. By leaning more into your business and customers and worrying less about your IT infrastructure and data security, you'll create more value for your startup that investors will notice.
2. Building an agile IT environment
Your developers and marketers aren't the only ones who should be working within an agile system. An agile IT environment provides you with the needed efficiency to grow and scale your IT infrastructure as your business does, capturing more opportunity and making it easier to continue to scale upwards.
3. Wasting less time and expenses
When you're operating a busy, quickly-expanding startup, every minute of the day and every dollar in the bank counts just that much more. Instead of wasting time patching up software issues, researching the top security tools, and messing with your network connection, getting help from expert IT consultants allows you to save incredible amounts of time and money otherwise spent on keeping your startup's IT running.
4. Receiving technical expertise with an industry focus
While startups are skilled at finding new solutions and keeping things scrappy, your IT environment is one area that should always receive special attention. Utilizing a managed IT service is the best way to get the breadth and depth of IT knowledge needed to locate, analyze, implement, and monitor every tool in use, as well as better understand your IT environment.
5. Lowering operational costs
Reducing expenses is always a goal for startups. By using a managed IT service that can understand and manage your changing IT needs with flexibility, as well as one that will handle everything from computer troubleshooting to full cloud migration, you can save money on capital costs and budget for operations.
6. Protecting against data and security threats
Your business and customer data are subjected to cyber threats on a daily basis; sometimes the only thing that stands in between your information and a hacker is a powerful firewall. An outsourced IT services provider knows the most reliable, secure solutions -- including applications and software -- needed to repel a potential data breach and keep your data locked down.
---
Empowering Startups at Every Stage with Flexible Managed IT Services
Crimson IT provides superior, managed IT services to startups in the Los Angeles, CA area. We understand the unique challenges that startups face - we'll work with your existing IT staff to meet every business goal or take over the management and support of your IT infrastructure to let you focus your efforts on growing.
With complete, end-to-end business technology solutions, we offer IT security, network optimization, helpdesk support, and more to your early-stage organization. Our flexible and reliable managed IT services for startups include: