If the damage has already been done, we can provide you with data recovery services that can mitigate any issues and allow you to get back to work more quickly and with less required downtime. We work with you to ensure the best possible resolution for serious data issues.
Crimson IT takes pride in knowing we can offer our clients the best, most reliable managed IT services out there.
Building a comprehensive disaster recovery plan to protect your business from the unexpected. We offer disaster restoration services that help you minimize downtime and recover quickly.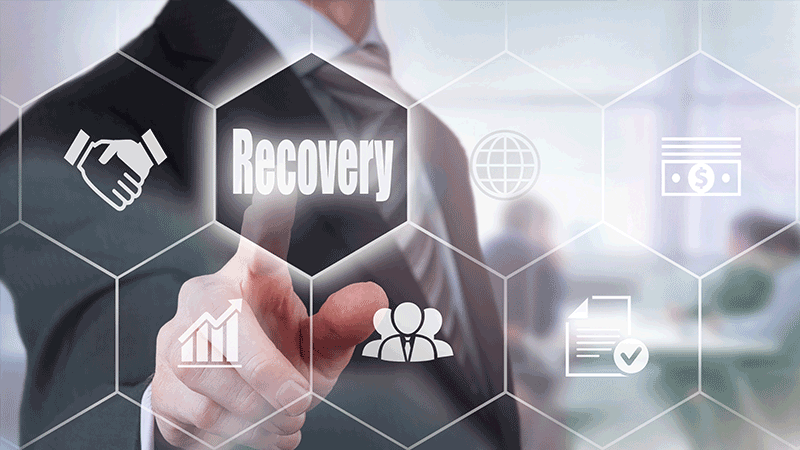 The best way to recover from disasters is to plan for them in advance. At Crimson IT, we offer cloud-based backups and proactive measures to help you prepare for prolonged power outages, major storms and data losses that could cripple your company's ongoing operations. By putting these plans in place, our team can help you manage downtimes and maintain your productivity.
Disaster Restoration Services: Complete IT Disaster Recovery Solutions
Outages, critical process bugs, natural disasters, and other emergency events can happen at any time, interrupting your network and leaving your system's doors wide open to additional risk. When things don't go as planned in your IT environment, it's important to have an in-depth, strategic, tried-and-tested disaster recovery plan to help get you back on your feet.
While many businesses think of an IT disaster as a weather-related issue that affects their datacenters, there's much more to it. The most common types of disasters that can disrupt your IT systems are:
Human error
Ransomware
Poor-quality hardware
And more
When a common organizational IT disaster happens, your business needs to have a thorough disaster restoration plan in place. Without a disaster plan in place, you run the risk of losing more than just valuable data and internal resources - you can damage your brand image and customer relationships in an irreparable way.
Disaster recovery planning is a critical element that every enterprise and SMB should employ. According to Gartner, the estimated "size of the [Disaster Recovery as a Service] DRaaS market will be approximately $1.3 billion, with a related compound annual growth rate of approximately 30 percent. By 2018, Gartner estimates that the size of the DRaaS market will exceed that of the market for more traditional subscription-based [disaster recovery] services."
With the proper disaster recovery plan and disaster restoration services, your business can be more prepared by:
Exploring various disaster scenarios and the implications that each can have on your business
Running through real-world testing to find any vulnerabilities
Establishing a secure database to lessen the risk of attack
Meeting strict rules, regulations, and governance
---
What Goes Into a Disaster Recovery Plan
A disaster recovery process is only as good as the disaster recovery strategy it's based on. When designing your disaster recovery plan, we carefully select targeted strategies that address your specific use cases - we tailor every IT disaster recovery plan to fit your business systems, needs, and overall recovery goals.
Our disaster recovery process:
Assesses the needs and capabilities of your business (desires vs. needs balanced with costs and expectations)
Discovers the complexity of systems, clouds, and applications
Discovers potential disaster scenarios and probabilities of risk for each
Gathers requirements, categorize and prioritize systems, clouds, and applications for recovery in each disaster scenario
Creates the recovery plans for each system, application, and cloud for each disaster scenario
Practices regularly scheduled real-world recovery tests with each business unit to ensure plan efficacy
Crimson IT's complete IT disaster recovery services provides the necessary expertise and knowledge to develop, test, and launch a full-scale disaster plan, giving you confidence that your business is protected.
---
Fast and Effective Disaster Recovery Services
Even a few moments of downtime on your website can mean lost revenue, unhappy customers, and other potential missed opportunities that could help you stay ahead in your field. Maximize your uptime, reduce your downtime, and lessen your stress by letting the IT experts at Crimson IT handle your disaster recovery strategy.
Our customized business disaster recovery plans will keep your information protected, as well as show you the steps that need to be taken in order to ensure that your disaster recovery strategy is will be effective in returning things to normal. We offer a wide range of services to prepare you for any potential situation: