Crimson IT offers on-demand IT business computer support and repair services that help your organization provide excellent service and get more done every day.
Experience a higher level of expert care with Crimson IT's professional Los Angeles computer repair services.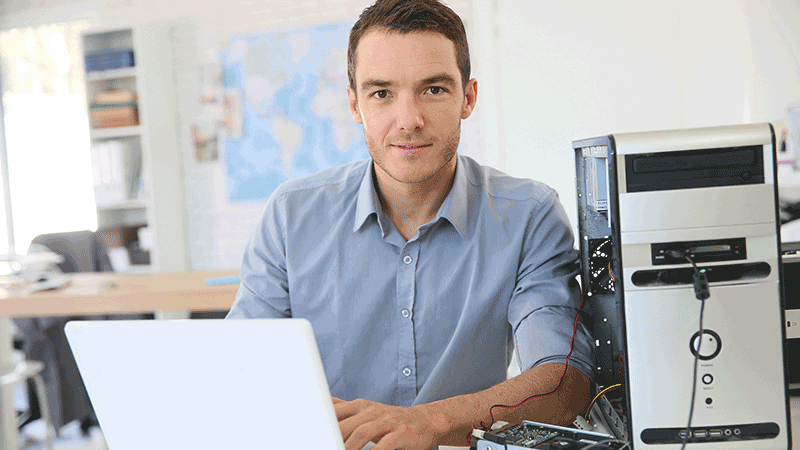 Improving the Performance of Your Business with Computer Repair Services
There are a vast number of issues that can affect your business computers and other connected devices on a day-to-day basis. The limited service you can provide during a technical issue can cause damage to your business - no matter its size - regardless if crawling WiFi, email server issues, network crashes, or other computer interruptions are the culprit.

Whether you are in finance, healthcare, law, consulting, or some other enterprise or SMB, we will work with you to understand your business goals and provide a technology management strategy to holistically support your growth.
---
On-Site vs. Remote: Which Are the Right Computer Repair Services for You?
As part of the IT solution for businesses, we support many industry-specific applications and can help maximize efficiencies between your networks, platforms, and the many applications your business may utilize. This includes QuickBooks, Dropbox, Salesforce.com, Microsoft Office 365, and more. Crimson IT experts provide business computer support services that include both on-site and remote technical support:
On-Site Computer Support
Our computer support specialists can visit your physical offices to provide on-site IT support and computer repair services like:
Device setup (computers, phones, printers, etc.)
Office relocations and re-configurations
Hardware and software improvements
Technical hardware fixes (network, printer, and scanner issues)
Remote Computer Support
In some cases, we can fix IT issues quickly by accessing your devices needing repair through a VPN and remote access which allows us to see what you see on your device. This feature is particularly helpful for business computer support services like:
WiFi setup
Email configuration issues
Software support and troubleshooting
Speed up remote access
When Crimson IT experts come into your office or work with you remotely, you can rest assured knowing that we uphold the same professionalism that you expect from your own employees. With years of experience, we make sure your technology is set up in the most optimal way possible.
---
Comprehensive Computer Repair Services for PC and Mac
At Crimson IT, we believe that, ultimately, your success is our success. That's why we provide one of the most comprehensive solutions for small business computer support available in the Los Angeles area. We look after all your needs with a complete, outsourced IT department that grants business IT support, PC repair, and other business computer related services.
With the amount of viruses, spam, and wear-and-tear a computer experiences in the workplace, it is critical to have a trusted partner in IT support and computer repair. We provide IT support solutions tailored for small businesses and enterprises on a case-by-case basis.
Our IT Support & Computer Repair Services Include:
Troubleshooting & System Repair
If your business computers are not working properly, our experts are here to help. With industry-leading system troubleshooting, we are able to identify the issues and come up with the best plan of action for your computer repairs.
Virus & Malware Removal
If your computer gets infected with a virus, it needs to be taken care of it as soon as possible. By delaying any addressing of the problem, viruses can quickly start spreading and become more of a burden to remove. We'll get rid of those intrusive viruses and vicious malware that are infecting your computer promptly and with ease.
Network & WiFi Optimization
Our IT technicians make certain that your network is set up as efficiently and effectively as possible. They can also help with networking solutions including file sharing setup, printer installation, server and NAS management, WiFi and router configuration, and much more.
System Updates
Let us make sure your computer has the latest updates for its operating system, hardware drivers, software, security, and all other components. By performing these updates regularly, we're able to often prevent many of the technical issues that arise from inadequately updated systems.
Hardware & Software Upgrades
If you are in need of a new computer system upgrade, our team puts in the work to research the best options available, while keeping your company's needs and budget in mind.
---
Why Choose Crimson IT for Your Business Computer Repair Needs?
Crimson IT provides a complete suite of computer support services for your small business or enterprise. We understand that the technology you use every day is at the cornerstone of your business operations. Our reliable tech support provides you with the assurance of knowing that your business computers and networks will be consistently effective.
Whether you're in the middle of a computer crisis, or need urgent technical support and need to be back up and running as soon as possible, our technology experts and managed computer repair services are here to help. We work to understand your needs and goals, developing a customized technology solution strategy for your business.