With a rapidly changing technological environment, staying at the top of your IT security game is the most important thing you can do for your business. Comprehensive IT support is the best way to ensure that your systems are operating at full capacity, 24/7. More than just enlisting the help of antivirus protection, managed IT services with Crimson IT provides full-service support with trained IT experts throughout the greater Los Angeles, California area.
Outsource your IT support to a trusted managed IT service provider to save your enterprise or small business time and money.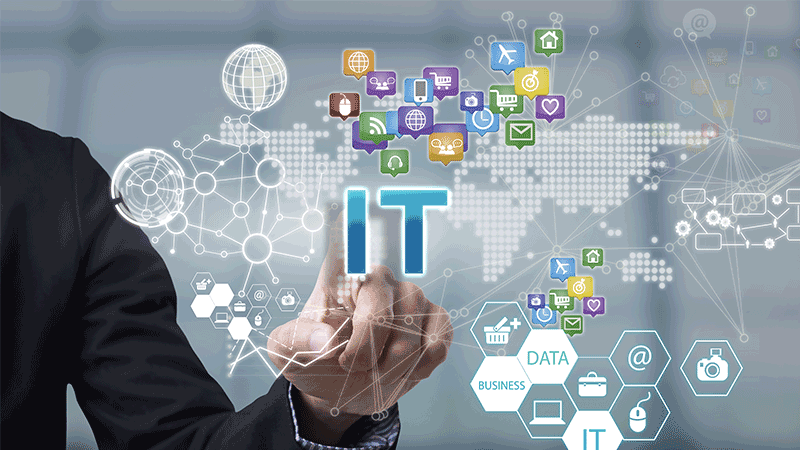 Know Your Business Technology is Secure with Managed IT Services
For organizations of any size to run efficiently and effectively, every part of your IT systems, operations, and networks need to be at their absolute best. When these critical networks fail, even momentarily, all areas of your business technology are vulnerable, and overall productivity can fall flat quickly.
With a team of specialists in the Los Angeles area, we are able to actively monitor your company systems, analyze risks, and help to improve network security. From cloud services support to disaster recovery and backup planning, we support your business by being prepared for the future of IT at every corner, as well as every potential risk that may strike.
---
Specialized IT Consulting for Every Area of Business
Technology has its foot in just about every business process today, making IT consulting more powerful than ever. As IT increasingly becomes a driver of success in business, having some IT consulting done is a good way to help develop a technology roadmap, as well as identify critical issues and potential vulnerabilities.
Enterprise organizations and small businesses alike have taken advantage of specialized IT consulting services to help get a competitive advantage and save more money on technology and network services in the long-run. At Crimson IT, our outsourced IT support experts are constantly immersed in the latest IT security trends, viruses, and new technologies.
Taking advantage of IT consulting has a range of benefits, such as:
Improving internal productivity
Reducing network costs
Lowering operating expenses
Decreasing downtime
Saving time to focus on business
Our in-depth managed IT services are here to provide you with accurate information, recommendations, and network solutions to improve your business technology. We are always looking for more ways to help move your business forward.
---
Benefits of Managed IT Services
Maintaining a dedicated IT department to do it all is too expensive, time-heavy, and resource-intensive for many businesses to manage. By using IT support services with Crimson IT, you'll be able to access on-demand IT security talent, in-depth technical knowledge, and extensive resources that allow you to receive amazing managed IT services while saving valuable money, among a myriad of other benefits.
Controlled Costs

: With improved systems and no surprise IT costs, businesses are better able to budget for technology and upgrades, while maintaining impeccable, airtight network security.

Better Business Decisions

: IT experts ensure that you'll have access to the most well-researched and robust IT options available. With confident recommendations, you'll be able to make more informed decisions every day about your business technology.

Competitive Edge

: Getting in front of advancements in technology is the best way to serve customers. Using the expertise of our IT support consultants, staying ahead of your competition with the right tools, technologies, and processes are made simple.

Risk Mitigation

: Internal and external threats can run rampant, but using an IT service provider helps to safeguard your business from data attacks and prevent future vulnerabilities from being exposed.

Powerful Security

: In an age where data security and customer information is always at risk, IT support services allow companies to stay up-to-date on the latest security trends, privacy regulations, data breaches, and more in order to avoid cyber attacks.
---
Why Should You Use Outsourced IT Support?
For companies small and large, outsourced IT support is a perfect, cost-effective solution for addressing business technology issues and improving operations. While attempting to perform your own IT support is possible, IT outsourcing allows you to focus on what really matters: the core functionality and purpose of your business. Technology departments are extremely costly, so using the expert knowledge and on-call resources of an outside IT team is the ideal way to shift priorities and re-focus.
If you're looking into why you should use an outsourced IT support company, here are a number of benefits you can expect to experience:
Better data and network security
Lower costs on IT support and greater flexibility
More available, more extensive resources and areas of expertise
Complete, built-in disaster recovery
Through an in-depth information technology support assessment, our outsourced IT specialists are able to identify weaknesses and strengths, as well as potential opportunities to improve your IT environment. With a thorough strategy set in motion, your business will find a more reliable, cost-effective infrastructure.
At Crimson IT, our progressive and innovative IT solutions enable companies to grow at scale in a secure and flexible way. Our IT consultants will leave you informed and ready to make the right choices at a cost that works with your IT budget.
---
Managed IT Services Details
The security, integrity, and safety of your business information and technology is our top priority as an outsourced IT support provider. Through managed IT services, businesses are able to enjoy the benefits of full-service IT consulting, IT support, and ongoing maintenance - all without the cost of a traditional, in-house technology department.
The IT experts at Crimson IT have years of experience to provide a wealth of first-hand knowledge to enterprises and small businesses. Among our managed IT services, we offer:
A complete, one-time assessment of all IT systems in your environment
Daily management of all servers, workstations, network equipment, and cloud applications
Unlimited 11x5 support of all IT equipment, from the network to mobile devices
Management of backups and disaster recovery to ensure data integrity
Full-service information security management
Our professional IT services for enterprises and SMBs are some of the most flexible and affordably-priced services available in the Los Angeles area. With a combination of expert-level care, price sensitivity, and high-range services, we offer the best managed IT services to meet your needs.