We offer turnkey solutions for your businesses throughout the greater Los Angeles area that include routine upgrades and networking solutions as well as maintenance and repairs for servers, desktop computers and printers. This all-in-one approach to your IT needs offers real convenience for your company and can provide added peace of mind when problems arise.
With reliable, on-site tech support, your business can get the computer repair, software improvements, and in-person technical expertise that you need.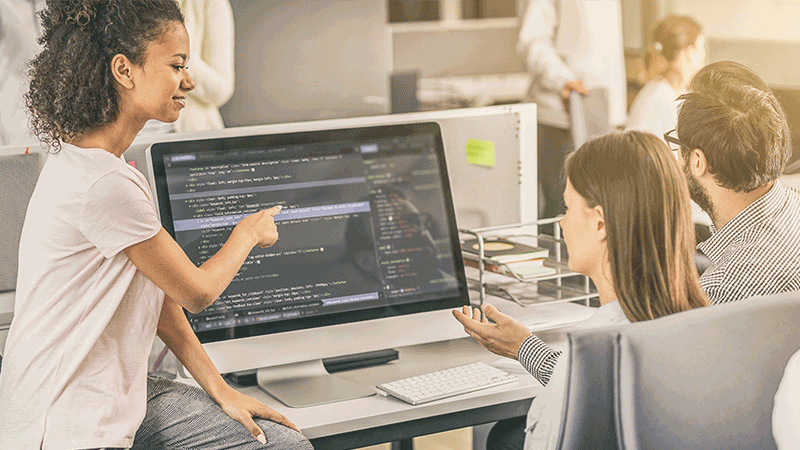 The Benefits of Onsite Tech Support in Small Business IT Services
What do you typically do when there's a computer tech support issue running rampant in your company - take the devices into an electronics store or repair shop? Call on your busy engineers? Hire a full team of tech support specialists?
As long as there has been business technology, there have been problems with business technology that can affect productivity, revenue, and progress over time. That moment of taking a step back and saying "we need some help with our computer tech support" often comes too late for small businesses; when technical issues arise, the damage is already done. Organizations looking into small business IT services have got the right idea. By getting ahead of any issues that can (and will eventually) occur, you'll be better prepared to handle anything that the world of business technology can throw at you.
Onsite IT tech support with Crimson IT has the potential to quickly diagnose and resolve a number of issues that can pop up out of nowhere. With in-person expertise and hands-on access to your physical and digital IT infrastructure, utilizing a small business tech support service is the best way to keep things running smoothly and without interruption.
---
No Quick Fixes: Outsourcing Your Computer Tech Support
For many enterprises and small businesses alike, outsourcing computer tech support may seem like an unnecessary expense. In the long-run, however, taking advantage of fully outsourced, onsite tech support is far more likely to save businesses a lot of money, time, and worry over operations and security.
Where many remote tech support services may boast convenience and low-cost, on-site IT support allows businesses to:
Assess physical damage in person
Discuss options and next steps face-to-face
Handle issues with Windows tech support head-on
Fix reported hardware or software problems
Conduct a needs assessment to find the best approach
Consult regarding technology needs and wants
Set up and configure networks, software, and hardware
Upgrade, repair, and replace items
Utilize industry experts that are actively working to understand the business' ins and outs
Stress less about the current and future states of business technology
Unlike many outsourced tech support consultants, Crimson IT provides complete onsite tech support for businesses of all sizes. Our computer tech support solutions are offered at your premises whenever you need it, ensuring that any tech support issues are resolved as quickly and personably as possible.
Crimson IT offers responsible outsourced tech support that works with your budget to meet your specific needs. With years of first-hand experience and knowledge along with a thorough assessment, complete strategy, and other general recommendations, our IT experts can create a customized plan of action that greatly reduces tech support costs. Best of all, your IT services will always be hands-on, with a human being to answer questions and calm nerves.
---
Best-in-Class Computer Tech Support Services
Never bring your devices into a repair shop or worry about handling a technical crisis again. Crimson IT is your on-demand, onsite tech support expert that always has the right answers and solutions. We offer a turnkey solution for managing and maintaining your network servers to keep your company running efficiently, as well as maintain your computers, printers, and additional hardware.
At Crimson IT, we're not your typical IT tech support provider - we're your trusted partner in tech support and IT services. Our expert technicians are committed to providing you with best-in-class business technology solutions and always-amazing support. We take the time to dig our heels in and really learn about your company's needs and goals to deliver the small business IT services that best meet them. Our IT specialists are skilled in managing ongoing tech support needs, offering businesses a variety of small business IT services: