At Crimson IT, we are here to assist you with every step of developing, testing, and maintaining your perfect business continuity plan. With access to our award-winning technology, expert IT consultants, and internal resources, coming up with a comprehensive business continuity process and maintenance plan has never been easier.
Developing comprehensive IT continuity plans that secure your business from disaster scenarios. Prepare for the unexpected at every turn with expert business continuity solutions.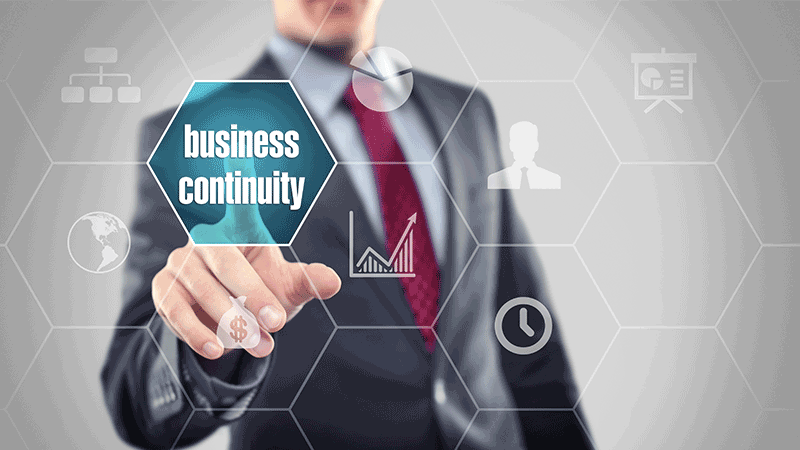 Improving Business Resiliency Through IT Continuity Services
With the increasing number of organization threats and global cyber attacks in today's world, companies have to learn to prepare for the unexpected and be proactive about business continuity. Without the proper business continuity strategy, being able to make sure that your business is completely safe from digital harm can be very challenging.
In the past, most enterprises and SMBs defined a business disaster as an act of nature, like a hurricane, flood or fire. In today's world, your business needs to be highly resilient by avoiding and mitigating multiple risks beyond natural disasters. With international networks, always-on web applications, and all-hours call centers, even a simple power outage could lead to damage.
Business continuity is what keeps organizations functional no matter what obstacles may arise, and ensures that the enterprise functionality will be available to its customers at all times. Intertwined with disaster recovery, which aims to restore a data center to normal operation after being taken offline, business continuity involves managing emergency coordination, notifying employees, and interacting with emergency officials as needed during a disaster.
There are three main components to business continuity to consider:
Resilience – critical infrastructure and business functions are designed to combat disruptions.
Recovery – fully or partially restoring infrastructure and business functionality following an outage.
Contingency – organizational capacity to function during outages via planning, frequent testing, and regular exercises.
Don't let business continuity and disaster recovery challenges get in the way of your path to success. We provide complete disaster recovery solutions to protect the integrity and availability of your critical systems and data.
---
What is a Business Continuity Plan?
Do you think you could maintain a "business as usual" routine while a disrupting, harmful IT disaster is at large? A business continuity plan (BCP) is a custom, documented strategy that consists of every facet of the critical information an organization needs to continue operating during a disaster scenario.
A centralized plan for when the worst happens, a comprehensive business continuity plan states all essential functions of your business, identifies which systems and processes need to be sustained, and explains in great detail how to maintain them during a cyber attack or other types of disaster. Crimson IT professionals are skilled at developing IT continuity plans that contain every important piece of information, such as:
Initial critical data
Purpose and scope of the plan
Clear policy information
Emergency response and management
Guidelines and order of operations for specific action items
Helpful checklists, flowchart diagrams, and step-by-step procedures
A complete schedule for reviewing, testing, and revising the continuity plan
Many organizations struggle to find the time, money, and expert human resources to commit to a fully fleshed out business continuity program. With its complex nature and need for technical know-how, developing an effective business continuity strategy is best left to those with expertise. Business continuity professionals at Crimson IT are well-versed in advancements in technology, network security, risk management, and strategic planning, among other key areas of focus.
---
Expert Business Continuity Services - Creating an IT Continuity Plan for You
What makes a business truly resilient? Proven experience solving data center problems, commitment to data backup and protection, thorough disaster recovery as a service, and a complete business continuity plan. With expert-level business continuity solutions from Crimson IT, you'll be ready for any disruption or attack that may come your way. You'll also gain the insight and perspective of knowledgeable IT specialists who have dealt with a wide range of disasters and issues, so you can continuously mitigate risks.
With our business continuity planning, management, and full-service solutions, we provide your business with the ability to track, coordinate, and recover from any incident. Some of the services we offer include:
Intelligent Continuity Planning
Our highly reliable and committed staff will dedicate their professional time to saving you time and money. By helping to build a complete business continuity plan, you'll be able to prioritize recovering quickly, as well as develop procedures to help mitigate additional risk. This includes:
Business Continuity Planning
Incident Management Planning (IMP)
Emergency Action Plans (EAP)
IT Review, Analysis & Maintenance
Frequently reviewing and closely examining your IT continuity plan is paramount to its success. We recognize that your security programs and business continuity plans should be analyzed repeatedly to ensure that the right processes are still working. This includes:
Business Continuity Program Review & Gap Analysis
Business Impact Analysis (BIA)
Annual Plan Maintenance & Updates
IT Disaster Recovery Plan Support
Training Exercises
By using ongoing training exercises as part of your IT continuity strategy, we are better able to ensure that there are no critical gaps in your current plans. Once the plans have been updated to best practices, these training exercises are the best practice for employees to learn how to efficiently identify and mitigate a potential disaster.
Multi-Faceted Response
All companies should involve every business unit in order to have a successful IT continuity plan. At Crimson IT, our specialists work with you and your teams so everyone has a piece of the strategy. With the careful coordination of resources, finances, and facilities, as well as communication with your employees in every department, we are able to provide a multi-faceted response to every type of disaster.