When your business is looking to put its security systems, firewalls, and cyber protection solutions to the test, it takes excellent penetration testing done by a reputable company to ensure that everything is sealed up tightly.
For IT security, it can be notoriously difficult -- often impossible -- for businesses to identify and analyze their weaknesses effectively. Fortunately, this is why network penetration testing services exist; to pinpoint every vulnerability and gap in your current network and system setups. Knowing exactly which of your weaknesses are the easiest to exploit, as well as how attackers can hack in, is some of the most significant IT knowledge you can hold as a business today.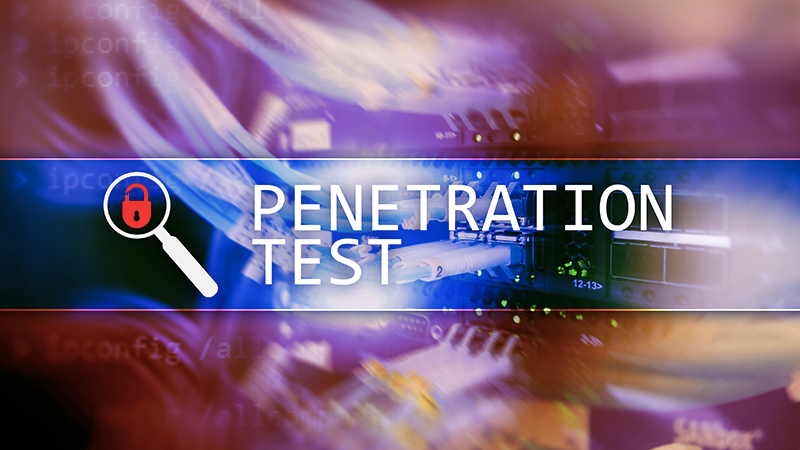 Penetration Testing vs. Vulnerability Scanning
While often grouped together or even confused as the same thing, penetration testing and vulnerability scanning have entirely different, yet complementary goals in mind.
Vulnerability scanning is a process that looks for the known, existing weaknesses in your systems to identify potential points of exposure. Penetration testing is a series of tests that are designed to exploit those existing weaknesses and see what the extent of damage can entail.
What is Penetration Testing?
IT and network penetration testing is, in essence, an ethical and strategic form of hacking. By putting your systems and networks to the test with a simulated cyber attack, you can identify security holes in your web apps, email servers, mobile devices, and more before the real hackers start to show up and cause genuine, irreversible damage. A typical penetration test will follow a 5-step process to identify your weaknesses:
Step 1: Planning, defining the scope and goals of testing, and gathering intelligence to understand potential threats better.
Step 2: Scanning your systems, servers and networks, and performing a thorough analysis of your application code to see how your apps will respond to different types of attacks.
Step 3: Uncovering your weak spots and vulnerabilities through a series of calculated attacks, code injections, and backdoor entrances, on your web applications and networks.
Step 4: Maintaining a hold on your exploited networks and systems using persistent, robust attack methods to really test and see how far and wide a data breach can go.
Step 5: A final analysis is performed to go through the results of every penetration test with a comprehensive report of findings (data accessed, vulnerabilities found, recommendations, etc.) to wrap up officially.
At Crimson IT, we provide industry-trusted and reliable IT penetration testing that will simulate a real cyber attack on your devices, applications, networks, and other systems to highlight precisely where you can improve and strengthen your practices.
---
The Real Value of Utilizing a Network Penetration Testing Company
The best way to understand your organizational weaknesses is to examine your IT environment from the perspective of a cyber attacker. A penetration testing company will help you accurately determine the vulnerabilities and large-scale issues within their networks, computer systems, and web and mobile applications to get the most comprehensive look.
With a deep and profound knowledge of the threats that can affect your business discovered during a penetration test, you can:
Determine if your data is at risk of loss or theft
Identify security gaps before an attacker exploits them
Gain insight into hacker strategies
Measure the risk associated with your most business-critical assets
Mitigate risk and vulnerabilities that could be compromised
At Crimson IT, our trained IT penetration testers are experts in testing your IT environment from every possible angle. Using the most up-to-date methodologies, tools, and technologies to locate every potential spot of weakness, we can minimize risk and safeguard your business from hackers.
Top Reasons To Use Our Penetration Testing Services
Crimson IT offers unparalleled IT services to businesses in the Los Angeles area. Among a host of long-term benefits, here are the top four reasons to use our network penetration services for your SMB or enterprise.
1. Get an accurate picture of your IT security
Performing a penetration test provides a holistic, precise analysis of your company's entire IT security health and setup that helps you identify every potential issue that could put you at risk.
2. Discover your deepest vulnerabilities
With an incredibly in-depth examination of your applications, devices, and networks, our IT experts will uncover every point of weakness - not just the ones that are easy to identify. We locate the core cause of each vulnerability to focus security efforts in the right locations.
3. Adhere to strict industry regulations
No matter what industry your organization is operating within, there are rules and regulations your company must be aware of and comply with. Compliance with PCI DSS, HIPAA, and FISMA to name a few, all require thorough IT penetration testing to ensure that no consumer data will ever be at risk of loss or theft.
4. Get an insightful report and guidance from experts
After performing the full penetration testing for your business, you'll receive a complete report with explanations, recommendations, and actionable steps. With this information on-hand, you can better plan for stronger security systems.
---
Comprehensive Attack and Penetration Testing Services
Crimson IT has years of experience performing in-depth network and IT penetration testing services. If there is a vulnerability in your system, we will find it and take care of it. With comprehensive and insightful breach simulations, risk validation, IT security assessments, and vulnerability discovery as part of our penetration testing services, Crimson IT is able to offer a full suite of solutions to identify and fix security gaps.