Today, companies must cater to much higher standards of business email hosting services in order to adequately maintain uptime, allow mobile access, integrate with third-party services, and other technologies. This means migrating to secure, reliable cloud-based email servers that provide greater functionality, protection, and efficiency.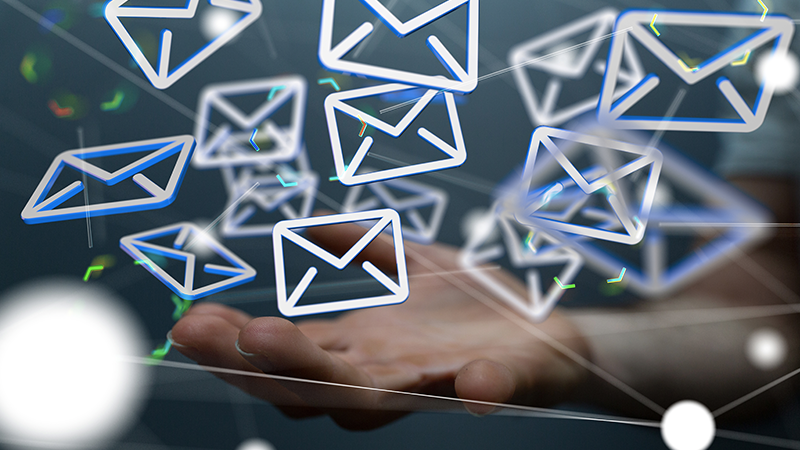 The New Standard in Email Hosting for Business: The Microsoft Exchange Server
Email is a primary function of every business out there, no matter its size, industry, or level of growth. With such emphasis put on IT security and streamlined, productive services, the need for email service providers and outsourced email hosting has grown exponentially. Long gone are the days of simple AOL email addresses and combination personal-and-work accounts; the old standard of email hosting does not work.
While the options for business email hosting are readily available, the robust Microsoft Exchange email server is a true winner when looking at the number of features, robust security, accessibility, and other functional capabilities. Outsourced Microsoft Exchange business email hosting with Crimson IT benefits businesses with:
99.999% uptime SLA (service level agreement)
Unlimited email storage
Compliance with industry regulations
Lower total cost of ownership
24/7 support and migration
Crimson IT experts work with businesses every day in helping to manage email services so that you can stay focused on the long-term growth, success, and security of your organization and its customers. We make it simple for your company to communicate by offering reliable, business-class email solutions.
---
The Fantastic Benefits of Moving to a Microsoft Exchange Email Solution
Managing your growing business in addition to your website, product or service as well as email communications can start to feel overwhelming. By taking advantage of the experienced and trusted services offered by an outsourced email hosting provider, you can benefit from dependable, flexible, and secure email all the time.
Crimson IT provides industry-leading business email hosting services through Microsoft Exchange that will help your teams:
Streamline communication and unify processes
Better team communication leads to better business practices and successes. Using an outsourced email hosting solution ensures that your email is the most efficient and streamlined version of itself, and helps keep everything unified and straightforward as a single point of contact.
Build and maintain a better IT budget
Email budget limitations can range depending on your specific type of business, but the concept of staying within that budget remains the same. With Microsoft Exchange email services managed by Crimson IT, you'll only ever pay for what you need so your expenses remain affordable.
Secure from cyber threats
Every day, hackers are doing their best to break into secure systems with sensitive information and, each day, data protection becomes stronger to combat it. Maintaining a completely secure email server and archived database with outsourced Microsoft Exchange services helps you stay under the radar and avoid a real threat.
Improve scalability
As with any other form of strategic business technology and cloud-based services, business email hosting services require a level of scalability in order to keep up with growing company needs. Our managed email server and hosting services help you rest assured, knowing you'll have access to all of your email communications every step of the journey.
Sync across mobile devices
Smartphones and other connected, mobile devices that belong to your organization's employees are put to use to streamline work and communications. With flexible and reliable email hosting services, you'll always have secure access to your meetings, emails, and calendars.
Our Microsoft Exchange email hosting services are specifically designed to bring your organization ultimate convenience and reliability in email communications.
---
Making Use of Outsourced Email Hosting Solutions
For the vast majority of businesses operating today, outsourced email hosting services offer up the perfect solutions. Email hosting and server experts at Crimson IT provide business-class Microsoft email exchange services that include helpful email server features such as:
Easy accessibility to email, and connected calendars, reminders, and contacts
Compatibility with Microsoft Office Outlook®
24/7 technical email and server support
Unlimited domain and email aliases
Full protocol support (MAPI, IMAP, POP)
Browser-based Outlook Web Access (OWA)
Virus and spam filtering
Our IT technicians will work with your business to provide the most comprehensive email hosting services with consistent uptimes, access to live support, and top-rated data and server security.
---
Email Hosting Services to Keep Your Business Scalable, Efficient & Secure
At Crimson IT, our knowledgeable experts understand that email is a critical component of your modern business. We'll ensure that your email server and normal communications are running smoothly, maintaining the proper updates and security precautions to keep performance at its best.
As a Microsoft Certified Partner, we are well-versed in Microsoft Exchange and Microsoft Outlook, providing an advantage to our team when diagnosing problems and making improvements. Our comprehensive business email hosting services include: