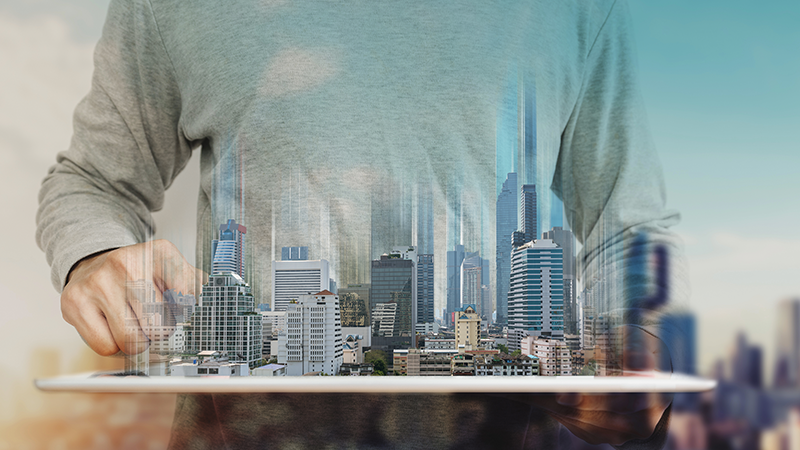 Win over more clients and grow your commercial real estate business with custom IT services and technology solutions
In the ever-changing world of commercial real estate, advancements in technology are fueling more productive, secure, integrated, and effective businesses. However, many working in the industry today still aren't effectively utilizing business technology. With reports that commercial real estate is "falling behind on investing in tech and data analytics," property teams and businesses are still often limited to the most basic IT functions.
The modern real estate marketplace is continually changing. By working with experts at Crimson IT, you can ensure you have the fastest speeds and the most effective IT services for your properties and listings. At Crimson IT, we are leaders in providing commercial real estate technology solutions, offering a full range of IT consulting services and managed business technology and tools that will help you:
Scale rapidly for the future
Improve productivity and network efficiencies
Protect and secure data at all times
Increase your bottom line
Compete for the best tenants and employees
Personalize customer experiences
---
Why Technology Solutions for Commercial Real Estate are Now an Industry Requirement
The real estate industry involves so much more than simply putting out a "For Sale" sign. For businesses to really thrive in the area of commercial real estate, they must assess their current use of tech and tools, adapt to technology advancements, and adopt more streamlined IT solutions to make efficiency soar.
There are a number of big reasons why every commercial real estate business needs to invest in proper IT services and technology solutions:
1. A greater demand for data security and protected networks
In today's highly technical environment, it's difficult to avoid the constant threat of data breach, phishing scams, and other critical cyber attacks. With more importance being placed on privacy, security, and safety of online data, the most updated technology solutions available must be used to avoid damage, satisfy customers, and have a competitive edge.
2. A trending shift to high-tech real estate tools
There are dozens of important innovations to stay on top of in the real estate industry. With augmented reality (AR), virtual reality (VR), and drone services rapidly gaining popularity to assist with 360-degree immersive views into every property and listing, these technology trends are changing the way that firms conduct business every day.
3. A reliance on connected devices and accessible information
Rather than taking handwritten notes and hauling them back to the main office after an on-site visit or client meeting, having the technology solutions in place to support field devices, and the cloud services to allow easy accessibility, IT is streamlining how commercial real estate agents and businesses are getting things done.
4. A requirement for minimal network downtime
When your business is supporting many agents, clients, and potential buyers, the ability to be in constant communication, have accessible information, and functioning networks is a must. Keeping all of your networks, systems, devices, and other tools up and running is what keeps your business operational, your data more secure, and your clients from finding better alternatives.
No matter what the reason may be for your particular business, our IT consultants can help you audit every potential solution and come up with a tailored IT strategy, delivering only the best options to your commercial real estate firm.
---
Flexible IT Services for Commercial Real Estate From Crimson IT
In the commercial real estate business, we understand that you're focused on the bottom line. Crimson IT offers businesses in the commercial real estate industry years of experience, as well as a genuine understanding of how your industry operates. We'll help you create a secure, reliable, and scalable IT environment that will support you with more cost-effective options, greater data security, and easy-to-use tools that clients gain immense benefits from.
We offer a broad range of flexible, managed IT services for businesses in the commercial real estate industry, including: