Cloud computing has become the new standard for how companies and organizations in all industries access, manage, and secure their IT infrastructure. Traditional business tools have been fairly complex and expensive to maintain.
Cloud computing systems often requiring a whole team of IT experts to keep up with every step of installation, testing, securing and updating regularly. With cloud computing, many of these struggles are eliminated.
Because cloud computing is inherently a shared infrastructure, those rounds of rigorous testing, securing, updating, and more is all handled automatically and in a more affordable manner. With popularity growing among businesses small and large, cloud-based services are evolving faster than ever before.
Companies that are using cloud computing to improve how their IT infrastructure works without those traditional struggles find that they are able to:
Perform more efficiently
Save money on hardware and software
Reduce the need for additional training
Customize specifications to meet their needs easier
Properly secure every bit of stored data
If you're already well integrated with the cloud and its potential on a technical level, you may already know that there are 3 main categories or types of cloud computing: Infrastructure as a Service (IaaS), Platform as a Service (PaaS), and Software as a Service (SaaS). In this article, we'll take a look at the 3 main types, why they are important, and how to optimize their use.
The 3 Main Types of Cloud Computing
Infrastructure as a Service (IaaS)
Infrastructure as a Service (IaaS) provides raw computing resources in a completely secure data center - in other words, it functions as an outsourced service. An IaaS provider will deliver hardware and/or software virtually, already installed and ready to be used. In many cases, IaaS providers offer managed hosting or development, data storage, and networking, allowing businesses to reap the benefits of reduced ownership costs, pay-as-you-go options, and easy scalability.
Platform as a Service (PaaS)
Platform as a Service (PaaS) is very similar to IaaS services in many aspects, with one key difference: it's much more advanced. More than just infrastructure, PaaS providers offer cloud computing and storage infrastructure, along with the development platform that utilizes web servers, database management systems, and software development kits (SDKs).
With everything handled under one umbrella, companies are able to lower their upfront investment in hardware/software. This simplifies testing and deployment, and eliminates any need to have to directly deal with another upgrade or patched fix again.
Software as a Service (SaaS)
Software as a Service (SaaS) provides specific services that are tailored to a number of different business needs, and are often what comes to mind first when they consider cloud computing and cloud services. Offering functional, entirely web-based software and tools, SaaS providers include CRMs, email platforms, time trackers, in-depth analytics, and more.
To provide more context to the information above, here are some examples of familiar companies that provide specific services in these cloud computing focuses: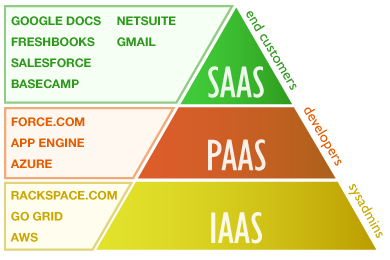 (Image Source: TheGadgetSquare)
Protecting Your Cloud Computing Data with Cloud Services
By combining your use of cloud computing solutions with reliable, managed cloud services, companies can receive everything they need all in one place, at budget-friendly costs; this includes cloud backup, cloud security, cloud management, and cloud IT services.
Crimson IT is a dedicated provider of managed cloud services for businesses of all sizes, effectively removing the need for additional services and reducing IT complexity. Additionally, we specialize in all of the most powerful and dynamic services, including Amazon Web Services, Google Cloud Platform, Microsoft Azure, and more.
Among our specific cloud services, we offer:
Managed cloud infrastructure to ensure that your systems are always configured perfectly.
Private cloud solutions to adhere to your most strict security requirements.
Hybrid cloud solutions to fit your unique needs for security, risk, and compliance.
Managed cloud security services to inspect, analyze, and enforce security practices.
Encrypted cloud storage to keep your cloud systems safe and protected.
Secure hosting services to provide the optimal location for all of your equipment.
Our goal is to help you completely streamline your IT infrastructure by finding the ideal cloud solutions for your needs, and offering all of the technical support required for a seamless transition. With the most custom and powerful tools at your service, you'll be able to help your business truly thrive with cloud computing and other cloud-based platforms.
Ready to learn more about our comprehensive cloud services? Get in touch with our team today!